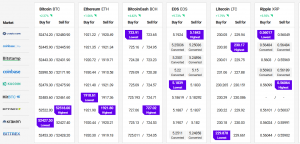 Bitcoin price remained well above the USD 50,500 support zone. BTC is rising and is currently (13:00 UTC) trading above USD 52,000. It seems that the price could go further above USD 53,000 in the near future.
Also, most of the major altcoins are gaining momentum. ETH is trading above USD 1,900 and could offset the USD 1,950 resistance. XRP / USD has broken the USD 0.550 resistance and could continue rising towards USD 0.585 and USD 0.600.
Total market capitalization
Source: www.tradingview.com
Bitcoin price
Bitcoin price didn't drop much below USD 51,000. BTC bounced back from losses and rose again above USD 52,000. It even traded to a new all-time high. While some data aggregators claim the price hit nearly $ 53,000, others saw a brief spike above that level. In both cases, the current price movement is positive and it appears that the price could move further above USD 53,000.
On the downside, initial support is near the USD 52,200 level. The next major support is near the $ 51,500 level. Further losses could potentially bring the price to the $ 51,000 level.
Ethereum price
The Ethereum price consolidated above the USD 1,900 level. ETH has seen a new spike and is now trading above USD 1,925. The next major resistance is near the USD 1,950 level. A sharp break above USD 1,950 could potentially open the doors for a push towards USD 2,000.
On the flip side, USD 1,900 could still be a strong support. Further losses could require a drop to $ 1,880.
BNB, Litecoin and XRP price
Binance Coin (BNB) surged above the $ 250 level and hit a new all-time high near the $ 285 level. The NBB is currently consolidating profits with an instant support at $ 250. A downside break below USD 250 could lead the price towards the USD 232 and USD 230 support levels. On the upside, the bulls could potentially aim for a test of $ 300 if there is a break above $ 285.
Litecoin (LTC) is up 3% and is trading above USD 230. The current structure points to further upward moves above USD 240. The main resistance is still near $ 250, above which price could accelerate towards the $ 265 and $ 272 levels. On the downside, the $ 222 level is decent support.
XRP price surged over 7% and broke the USD 0.550 resistance level. The price is now approaching the USD 0.585 resistance level. A significant break above the USD 0.585 level could open the doors for a move above the USD 0.600 level.
Other altcoin market today
Many altcoins rose over 15% including GLM, DODO, CAKE, RVN, XVS, OKB, HT, SOL, ICX, STX, CRO, FTT, DASH, MOTA, XEM, TRX, and VGX. From these, GLM rebounded by over 100%, breaking the USD 0.50 level.
In summary, Bitcoin is steadily rising above USD 52,000. If BTC rises above USD 53,000, there is a possibility of further upward movement towards USD 55,000.
_____
Find the best price to buy / sell cryptocurrency: