THE last episode of Irish Chamber Orchestra current series of I create online Broadcasts on Thursday, April 29th at 1pm.
The response to this diverse online series has been as strong as the first series and has allowed the Irish Chamber Orchestra to work with more art forms such as pantomime, marine film and illustration. This last episode 'Eternal Blooms' is a four-part tapestry with an illustrator and printmaker from Limerick Eva Byrne, ICO director Katherine Hunka, Guitarist Jimmy Smyth and film editing, Dominik Kosicki.
Sign up for the weekly Limerick Post newsletter
Eva's inspiration for 'Eternal Blooms' came from the ephemeral beauty of wildflowers, which were short-lived when plucked. While her daughter Polly struggles with the fading beauty of the flowers she picks for her mother every day, Eva keeps this memory forever for her in her work of art.
We film their process as their musical appeal comes from an emotional folk song The Unquiet Grave, an old English folk song. Eva and Katherine Hunka both loved Luke Kelly's version of the song and the melody for its lullaby-like properties. Katherine captures the vocal line beautifully on violin, while well-known guitarist Jimmy Smyth accompanies her while Eva plans her course.
"Eternal Blossoms" Broadcasts via ICO social media channels on Thursday, April 29th at 1 p.m.
The Limerick-based Irish Chamber Orchestra is based at the Irish World Academy of Music and Dance at the University of Limerick and is funded by The Arts Council of Ireland. www.irishchamberorchestra.com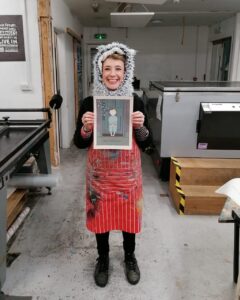 For further information / pictures please contact: [email protected]
Irish Chamber Orchestra I create online
"Eternal flowers" in all social channels
Thursday, April 29th, 1 p.m.